The ocean is a terrifying and overwhelming place. Being surrounded by an unfathomable amount of water is the scenario of nightmares. The Lighthouse is a film that doesn't necessarily tailor directly to that fear, but rather uses it as a psychological backdrop.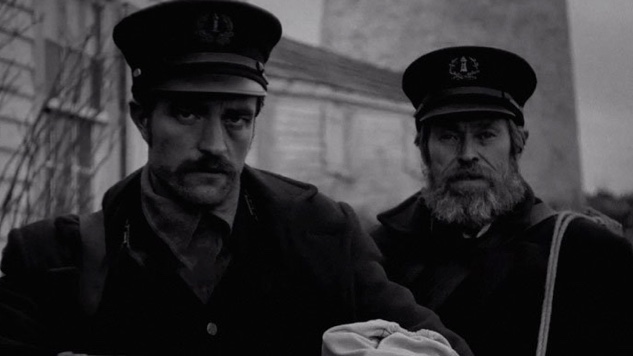 The Lighthouse is one of the most endlessly entertaining, original and fascinating films of recent times.  It is tense, claustrophobic and ugly.  There is constantly a sensation that something dreadful is about to happen.  You don't know exactly what's driving this sensation but you know there's something.  Is all of this really happening?  Is it a figment of the imagination?  These are the questions the film leaves us constantly second guessing.  It's a film that reminds me heavily of David Lynch's Eraserhead in crafting a nightmare inducing and anxious atmosphere.  This is like a further expansion on that world as it showcases a battle between light and dark.
This is one of those films where everything comes together so masterfully. Robert Pattinson and William Dafoe play off each other so well here. The two actors seem to bring completely different acting methods to the table. Dafoe is more classical in approach while Pattinson is modern and brings an energy of method acting. The two give the film a stunning amount of energy amidst the rising tension. Dafoe has an endless amount of wonderful monologues. However, Pattinson is truly the show stealer here. The amount of energy he brings is absolutely stunning.
The aesthetic use is off the charts brilliant. The decision to film this in black and while is essential to crafting the distinctive tone this film carries. Its use of lighting is some of the most impactful I've ever seen in a film. It feel dreamlike.
All in all, it's everything you could ask for from a psychological horror film. Robert Eggers went above and beyond in crafting something completely unique within the horror genre. Fans of psychological horror and original filmmaking cannot miss this one.